In the spirit of Great British Bake Off returning to our screens, and with autumn just around the corner, we'd like to share with you our favourite warming dessert: blackberry and apple crumble.
Nothing is more stereotypically British than a classic crumble. With a perfect crunchy topping and a sweet, warm filling, this pudding is a firm favourite.
Follow along for the recipe to enjoy this delicious treat, perfect when the seasons change. Even better, while living at The Green and enjoying the wonderful nature surrounding Kilnwood Vale, you might even find some wild berries for you to sprinkle in!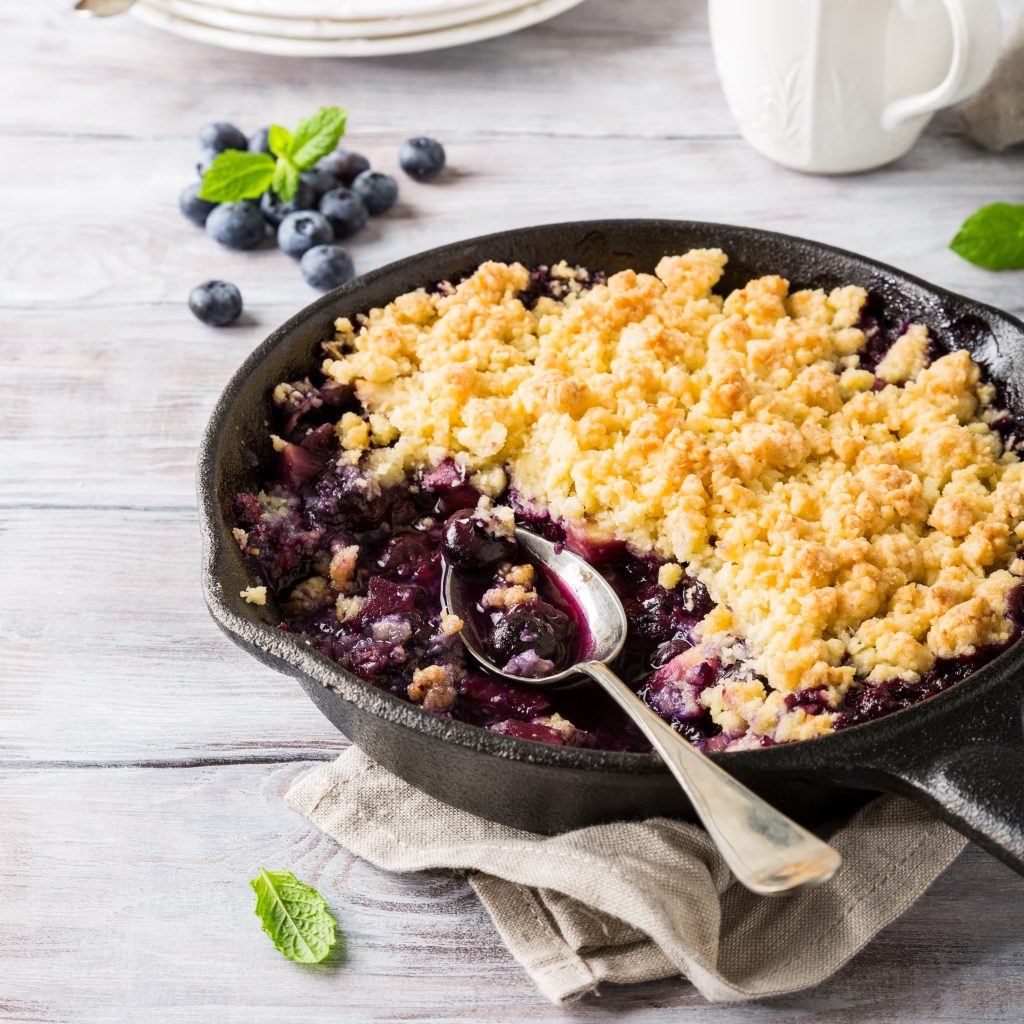 What you'll need:
2 large bramley apples
3 crisp eating apples (eg Cox)
250g blackberries
2-3 teaspoons of cornflower
100-150g of caster sugar, depending on how sweet the fruit it
–
240g of plain flour
150g of butter, cubed
120g of demerara sugar
Method:
Preheat the oven to 190°C/170°C fan/gas 5. Sift the flour and a pinch of salt into a mixing bowl to begin making the crumble topping. Add the cubed, room temperature butter. Rub the mixture together with your fingertips until it resembles breadcrumbs. Continue rubbing in until the mixture begins to stick together to form small pea-size clumps. Stir in the demerara sugar.
Peel and thinly slice the bramley apples and place into a bowl. Peel and slice the eating apples, slicing them into slightly thicker wedges. Add to the bowl, along with the blackberries, and mix together.
Mix the cornflour with the caster sugar. Add this to the bowl of fruit and mix together well. Set aside for a few minutes to allow the fruit juices to seep out and make the sugar mix damp. Mix again until the cornflour sticks to the fruit.
Spoon the fruit mix into a large baking dress, and pack into an even layer.
Spoon the crumble mix in an even layer across the fruit.
Bake for 45 minutes, until the topping is golden brown and the fruit is tender.
Serve and enjoy – why not add some custard, cream or ice cream?
We hope you'll enjoy this classic British pudding, perfectly suited for the colder nights to come. And if you keep up with your baking, we might even see you on GBBO in the future!